Historic Patterns: Chinoiserie
Apr 28, 2023
Today the Chinoiserie style is often associated with luxury and high-end interior brands and is definitely one to adapt for your pattern portfolio, however Chinoiserie has had it's fair share of ups and downs through-out history and almost disappeared altogether. Let's learn more about its revival and three different sub-genres that captured the imagination of mid 18th century Europeans.

WHAT ARE CHINOISERIE PATTERNS?

The word Chinoiserie comes from the French word "Chinoise" which means Chinese and refers to a western style of decorative art inspired by Asian art and cultures.
The Chinoiserie style emerged in mid 17th century Europe, when local designers and craftsmen wanted to imitate the style and use it for domestically manufactured products such as textiles, furniture, pottery, porcelain and paintings.
Image 1: Design by ©Bärbel Dressler | Image 2: Chinoiserie fabric swatch V&A museum
Despite the name reference, the style influences were not just Chinese, but from a wider region often referred to as the Far East during the 18th century, which included China, Japan, Korea, South-East Asia, India and also Persia.
However Chinoiserie was not just a European phenomenon. There were versions of the Chinoiserie style in India, Japan, Persia and especially Latin America where it also inspired local artists and artisans.


---

THE HISTORY OF CHINOISERIE


The interest among Europeans for the Far East and China started in the 14th century, when the Italian explorer Marco Polo came back from his adventures along the silk road. He brought back stories of exotic cultures as well as beautifully decorated merchandise.
The commerce between China and Europe grew during the 15th and 16th centuries. By the 17th century there was a regular import of Indian and Chinese products by the European East India Companies.
"...One of the first appearances of a Chinoiserie interior was The Grand Trianon pavilion at Versailles, built for Louis the 14th in 1670 at which point the Chinoiserie popularity exploded among the royal courts and noble homes around Europe..." Encyclopedia Britannica
During the 17th and 18th century travel wasn't very common therefore Europeans didn't know much about Asian cultures, other than what they could see on imported products. The Chinese culture, people and environment seemed very exotic and mysterious.
Chinoiserie design styles are often about leisure and pleasure, with scenes of lush gardens and foliage, nature and vivid landscapes, showing Chinese figures, fancy pavilions and pagodas.
When European artists were to design artwork and patterns for the European market they often copied their motifs from real Chinese objects or simply created from their own imagination and interpretation of what the colonial-era Europeans thought to be typical for the Chinese culture.
These imitations often led to a distorted and caricature version of actual Chinese art and design, and therefore it's often described as whimsical and was not popular among everyone.
The popularity of Chinoiserie interiors peaked around the mid 18th century and whilst Chinoiserie never fully went out of fashion it declined in Europe by 1760.
Despite some ups and downs, the Chinoiserie pattern style had a revival in Europe and the US from the mid 19th century to the 1920s and is still often associated with high end interior design and fashion today.
---

CHINOISERIE PATTERN TYPES AND CHARACTERISTICS



Image 1 Porcelain ginger jars and vases | Image 2 Chinoiserie fabric swatch V&A Museum | Image 3 lifestyelasia-St-Laurent-design-in-standard-design-colours-on-Turquoise-Edo-tea-paper.-Photography-by-Mariam-Medvedeva
There are three main sub-styles within the Chinoiserie pattern style:
• The blue and white porcelain style
• The Chinoiserie Toile de Jouy - or landscape - style
• The blossoming tree style
These types are often combined and we'll cover that as we go along.
THE CHARACTERISTICS OF THE BLUE AND WHITE CHINOISERIE PATTERN STYLE
The blue and white porcelain style is of course inspired by the designs found on imported Chinese porcelain and ceramics, like plates, bowls, pots, vases and large ginger jars.
In today's interior design concepts any Asian monochromatic blue and white design is often categorized as Chinoiserie. For example Indian Floral, Damask and Ikat styled designs.
Image 1: Porcelain Chinoiserie & landscape style adorn bedlinens, Photo credit: Kate Walker Design
Image 2: Porcelain Chinoiserie style interior, Divine design + build
Image 3: Porcelain Chinoiserie style bedroom, Decorpad
Image 4: Porcelain Chinoierie style bedroom, Randi Garrett design
However if we focus on the porcelain inspired blue and white Chinoiserie pattern style, besides the monochromatic color scheme, there are some characteristics we can consider and use when creating a design or pattern in this style:
Images 1&2: Blue and White Floral Ginger Jar Designs by ©Bärbel Dressler
Trailing branches and sprigs with leaves and flowers - either in a sprawling design or as an evenly distributed background. Often in combination with

Geometric labyrinth like lines and shapes aiming to mimic Chinese letters and symbols:
Images 1&2: Blue and White Geometric Ginger Jar Designs by ©Bärbel Dressler
Then there are little scenes of buildings like pavilions, pagodas and trees, people playing or taking a stroll, or nature with animals like birds and insects. Birds are common motifs, and often have symbolic meaning, Cranes for example symbolize longevity and wisdom.
THE CHARACTERISTICS OF THE TOILE DE JOUY CHINOISERIE PATTERN STYLE
This type can be both monochromatic, often in blue and white inspired by the porcelain style or have two or three colors or more, but in a limited color palette.
Typical motifs for a Chinoiserie Toile de Jouy are scenes including:
Nature with mountains, hills, fields, forests, lakes, creeks or rivers, clouds

Buildings like Pavillions, pagodas and bridges, often surrounded by

Lush gardens and parks, with trees, foliage, shrubbery and grass

Chinese figures playing, working or strolling

Birds and bird cages


---

WANT TO DESIGN YOUR OWN TOILE DE JOUY PATTERN?

Check out my course on Skillshare where you'll get the complete history of this classic style and also my step by step process for creating an Toile de Jouy pattern of your own.
To adapt the Chinoiserie style just include motifs mentioned in the examples above.
Learn More And Take The Course Here >>


---

THE CHARACTERISTICS OF THE BLOSSOMING TREE CHINOISERIE PATTERN STYLE


This type can be done as a seamless repeating pattern, but often in a mural type of pattern for wall coverings, stencils and floor-to-ceiling wall-to-wall murals, where it is repeated only horizontally, but not vertically. This type is characterized by slender, sprawling trees or branches, with leaves and blossoming flowers, fruits, birds and insects. The mural versions often have a ground from where the trees sprout, and sometimes also with animals or people.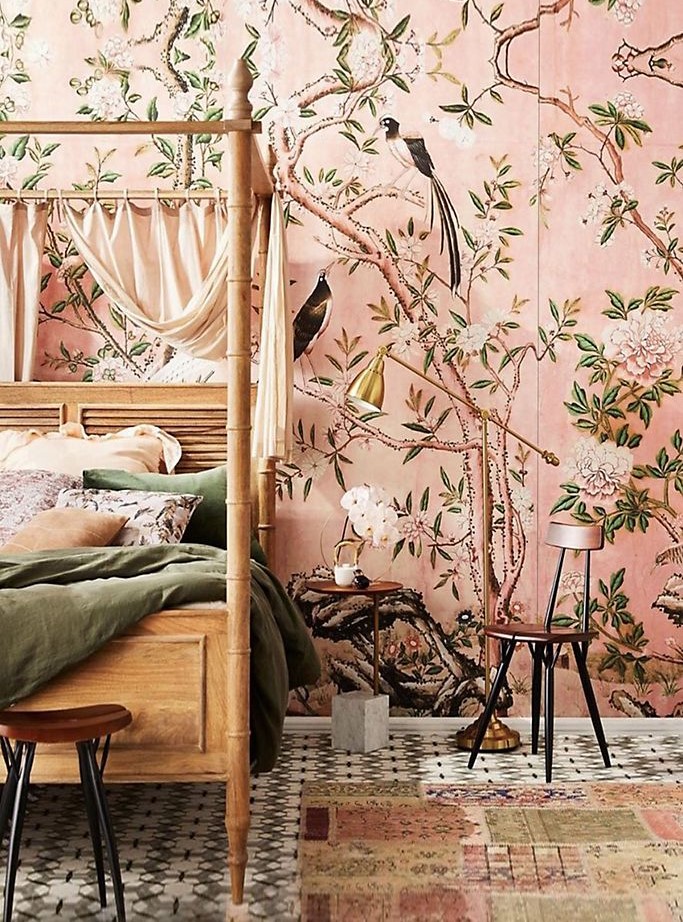 Image: Anthropologie
Several brands have adapted this version of the Chinoiserie pattern style, two of which are the luxury wall covering specialists Fromental and de Gournay. Both companies create beautiful hand-painted Chinoiserie using authentic 18th and 19th century techniques and craftsmanship, often on silk and featuring exquisite embroidery. Yes. Embroidered wallpaper.
---

WANT TO LEARN ABOUT HISTORICAL AND CLASSICAL PATTERN STYLES, TYPES AND MOTIFS?
---
Pop a pin in it and save for later!