Creating historically inspired pattern collections
Jul 18, 2023
How do you create pattern collections with historical styles, like Toile de Jouy, Damask and Arts and Crafts?
And what type of patterns would you use as coordinating patterns within these styles?
These are two of the most frequently asked questions I get. And I can absolutely understand why. There is a lot of information about creating contemporary styled pattern collections out there, but so much not about collections inspired by historical patterns and styles. And as the pattern history nerd I am, it feels like it's kinda on me to shed some light on this topic.
So in this article I will give you tips and suggestions for how to create historically inspired collections and coordinating patterns.
​
Tip: Pin this image to one of your Pinterest board to save for a rainy day.
Tip #1: Find patterns and styles from the same historic era
My first tip for combining patterns in historical styles, is to look at the art found within the same historical era and find clues and inspiration there.
Example: 18th century styles and patterns
For example, the Toile de Jouy style and its patterns became popular in the second half of the 18th century and into the first decades of the 19th. It was first inspired by the Rococo art style, which was characterized by a romantic and nostalgic flare, with light and airy patterns, in bright pastel colors.
You would typically see romantic motif elements like flowers, leaves, ribbons, bows, flounces, lace and were extremely ornate in appearance with scrolls and flourishes.
Other popular styles and patterns during this time was Indian Florals and Chinoiserie.
In the last decades of the 18th century a new style emerged and become popular; the neo-classical, or Regency art style and more or less pushed the rococo style aside.
Neo-classical patterns were characterized by a more somber, classical expression. The romantic flowers and motifs depicting a pastoral countryside were exchanged for motifs inspired by ancient Egypt, Greece and Rome, mixing florals and geometric forms. And now we could also see a new popular pattern trend; stripes!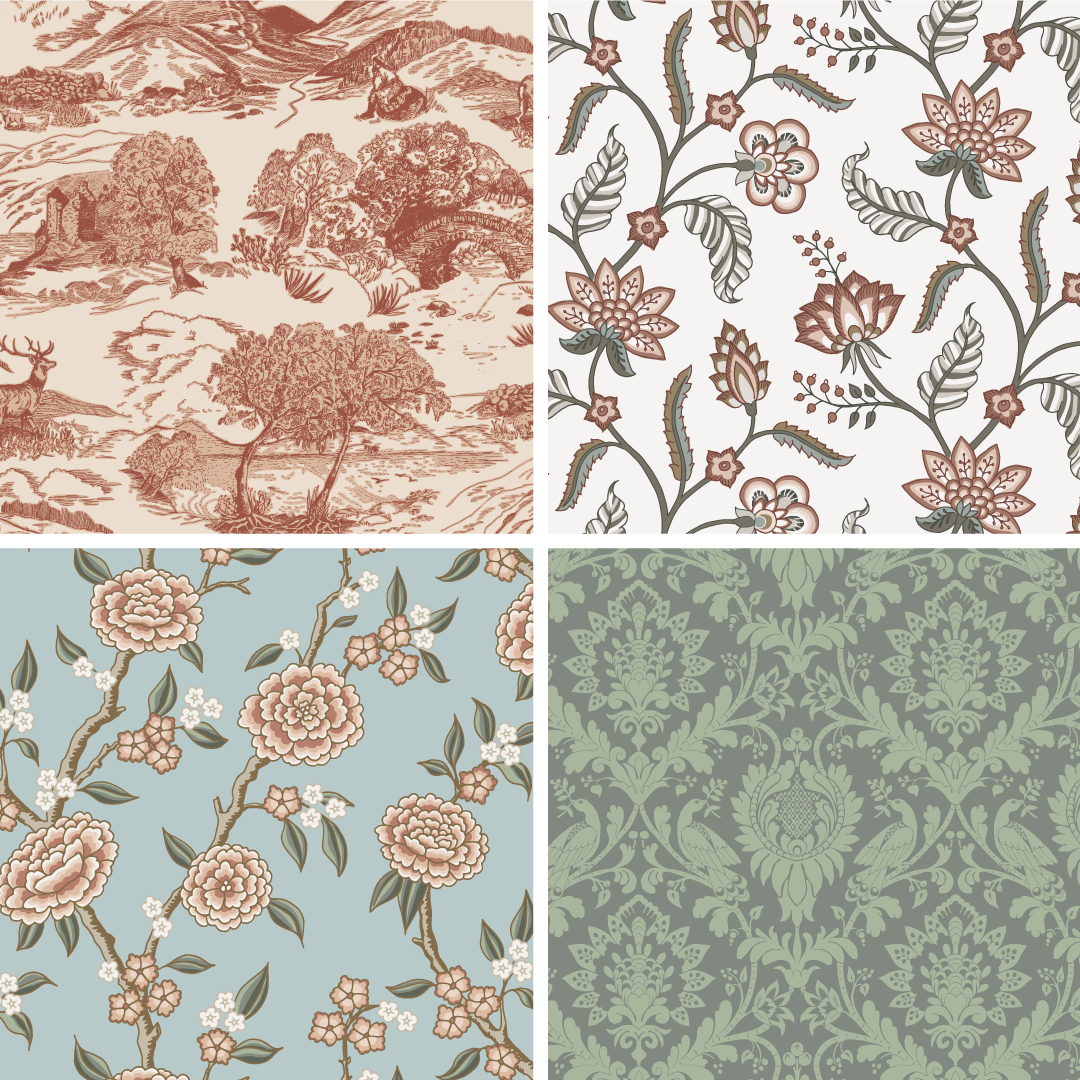 18th century heroes: Toile de Jouy, trailing Indian Florals, Chinoiserie & Damask patterns
For hero patterns in a historical collection inspired by the Rococo era, you can include medium to large scale Indian or Chinoiserie floral patterns with trailing branches, flowers and leaves, in multiple bright colors, or a large scale Toile de Jouy pattern.
Another pattern style that was popular at the time was Damask patterns, so that could also be a design to combine with an Indian Floral and Toile de Jouy.
18th century coordinates: Petits, diamonds, stars, ikat & stripes
As coordinating patterns you can create some medium scaled flower designs, for example simple flower bouquet arrangements in a tossed layout.
Other coordinates can be so called "petit" patterns, which are patterns consisting of small motifs, lots of spacing and often repeated in a diagonal, half-drop or brick layout to create a nice flow to the otherwise quite strict and minimalistic composition. The motifs can be small flowers and leaves, either separate or as sprigs, with a little stalk.
Petit patterns can also have small and simple abstract, geometric shapes, like diamonds, stylized stars and blurry ikat elements.
And then of course stripes, which became popular for the first time in history with the neo-classical style. And there are so many different stripe styles to pick from. For example the Regency stripe, which is a balanced stripe that combines vertical stripes of different sizes and colors in a symmetrical composition.
Example: Medieval and Renaissance styles and patterns
Speaking of stripes, this was a pattern that would not have been used for decorating surfaces or clothes in Medieval and Renaissance Europe.
At this time people preferred imagery with objects and motifs in layers creating depth with for example a figure or object on a background. But with stripes there was no such thing, the stripes was both the foreground and the background at the same time, and this felt very weird and suspicious to the medieval person. And so stripes came to represent outcasts in different ways, like prostitutes, hangmen and people considered heretics. The same with check and diamond patterns, which were the mark for clowns and jesters. But, weirdly enough, you find chevron and zigzag patterns in this era.
Another design that would not have been used is dots and dotted patterns, as it created associations with illness.
Medieval and Renaissance hero patterns
If you were to create a collection with medieval patterns and styles, you can find inspiration for hero patterns from popular tapestry designs, like Millefleurs and Verdure tapestries, as well as Roundels and Damasks.
Medieval and Renaissance coordinating patterns
And for coordinating patterns: Gothic styled designs like diagonal diaper patterns, Scales, Ogees, Rosettes and Quatrefoils.
Tip #2: Combine styles from different eras by using unifying elements
Styles from the same time period often have some common elements that were characteristic for the contemporary art and design. For example when it comes to popular themes and motifs and the way objects were depicted and tools and techniques for creating the motifs.
But, we can also combine styles and patterns from different eras. The key is to use unifying elements to tie them together.
And for this we can go back to the basic pattern elements:
We could for example create an early 20th century ditsy floral as a coordinating pattern to a Toile de Jouy, by unifying them by adding the same level of detail and with the same style to the line work, texture and perhaps also using a very limited color palette.
Or we could combine Damask with stripes. If the Damask has more delicate shapes and details (as in a Rococo Damask), a stripe with thin, delicate lines can go well together with that. Or a Renaissance Damask with a more robust and "chunky" expression, broad awning stripes could be very cool.
How many patterns should you include in a historically inspired pattern collection?
Creating coordinating patterns and combining patterns of historical styles in collections is all about finding unifying elements in one way or another. Either through common, popular art trends of a specific era in themes and motifs, or through similarities in the basic pattern building blocks; line, shape, color and texture.
And to answer another common question I get about how to create a historical pattern collection, which is "How many patterns should you include" - my answer is:
It depends on what you are designing for.​ ​
But here are some suggestions. And perhaps you can use them as prompts to implement the principles you just read about? ​
Create a mini collection of only 2 patterns: One large scale hero pattern and one petit.

Create a mini collection of 6 patterns: Two large scale hero pattern, two mid scale coordiating patterns and 2 small scale patterns, of which 1 can be a petíte pattern.

Create a full collection by doubling number 2 above.
I hope this has given you some clarity, inspiration and ideas for creating patterns with historically inspired patterns.
---
WANT TO LEARN MORE ABOUT HISTORICAL AND CLASSICAL PATTERN STYLES, TYPES AND MOTIFS?
I have created an ebook I think you may like, called the Patternpedia. It's a surface pattern design encyclopedia with descriptions and illustrations of over 130 pattern categories, classic motifs and historical pattern styles.
---